FREQUENTLY ASKED QUESTIONS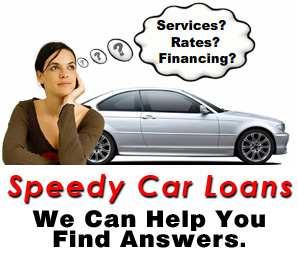 1. What services do you provide?
a) We provide auto loans for all types of credit
b) We provide any automobile you can dream of to purchase for both cash and credit customers

2. What is my interest rate?
We deal with over 20 banks, credit unions and finance companies. The interest rate is determined by credit, stability and down payment. Each individual is different. We can generally have you approved and your rate determined within 24 hours of your application.

3. I don't want to finance, can I still purchase a car from your company?
Yes! We provide full purchase options for both cash and credit. We generally save you money, time and hassel over a typical dealer experience.

4. The dealer already turned me down, why can you get me approved?
The Ford dealers job is to sell Fords, the Chevy dealers job is to sell Chevys. This limits them on their ability to maximize loan potential. Our main goal is to make sure you are approved regardless of your car preference.

5. What type of cars do you have?
We have access to all Year, Make and Models. We are not limited to a specific inventory likedealers.




CALL 1-702-478-2605